Helmi - the last authentic ship of this type!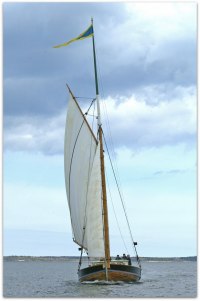 Helmi was built in the early 1880s by Erik Andersson of Svartlöga with a home port at Blidö 1887-1946. It´s the last authentic ship of this type "Sandkil" (Sand carrier).
The 125 year old ship have a long history of sailing in the archipelago of Stockholm.
Helmi was owned by the Sjöblom family for 60 years until
the mid-1940s. After which, she had several owners. At one
point, she was converted into a house boat and on another
occasion she was used as a sailing library. Then she
suddenly disappeared.
During the 1970s and '80s, it was said that all traditional ships
of this type Roslagsskuta (traditional sailing fright carriers)
only existed as models, photos or on some rare drawings. In
operating condition only one full-scale replica was built -
Vedjakten (The Fire Wood carrier) Sofia Linnéa.
However, quite sensationally it was discovered that in 1986, one single original of a "Sandkil"
(Sand Carrier) actually existed - Helmi was found. In poor condition and with a battered hull she was donated to The National Maritime Museum by her finders Kjell and Anders Justrell. The museum also commissioned the boat builder Kjell Justrell to renovate the hull.
In January 1999, Helmi returned to Blidö by trailer and the remaining work on her renovation
continued for three years. The work was based on old measurement drawings in order to
recreate the ship with its original quality and features. Helmi is equipped with a toilet and a canopy over
the cargo area. This allows enjoyable sailing in all weathers. She was finally launched 2002. That event was a day to remember with more than 3000 guests. Helmi is now restored to her former
glory thanks to The National Maritime Museum and The Association - Friends of Helmi on Blidö.
The Association - Friends of Helmi is now the formal owner with the responsibility to preserve this unique ship for future generations. Helmi is a very important part of the archipelago's history and cultural heritage - she is also a listed heritage ship! She is a great symbol for the prosperous and vital Blidö Community. She is now used for education and sail-training, youth activities, sailing tours for members, sponsors, etc.
A more detailed brochure "The History of Helmi" can be purchased through The Association - Friends of Helmi for those seeking more information, please check out the shop!
You are also welcome to visit Helmi, in here her new home port on Blidö.