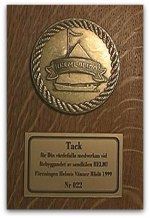 The medal

has

a

price

.

It

also has

a value
-

many

times greater

than

the price

!
This medal is produced in only 200 numbered copies, of which 172 have
been sold. Buy this unique medal in support to preservation of Helmi and
the future use as a Sailing Museum in the Archipelago of Stockholm.
We offer

you

to

buy

the

unique

Helmi

Medal
It will both delight and honor you in the future. Medal acquisition can
be combined with a sponsor's contribution which more than justify its
expenditure. Your support will be displayed on our information board next to our home port in Stämmarsund. Your support is an important
part of the archipelago's future history.
A Helmi medal costs 5.000 SEK
It is a perfect gift for the anniversary, the festival day, in gratitude for meritorious services or to
yourself. Order your numbered medal mounted on oak plate from the old hull. Order your medal
from any member of the board in The Association - Friends of Helmi or from our shop!

It has been very expensive to get the only remaining sand carrier - Helmi in its present state,
125 years after the first launch at Svartlöga in the Archipelago of Stockholm. We now have
equipment costs, maintenance, documentation and information to take care of in a responsible manner to preserve Helmi for future generations.
The medal

will give you

status

!

As the owner of a Helmi medal, you will be a decorated sailor - a title of honor and status - onboard
the last sand carrier Helmi from the 1880s. She is now sailing again in her old home waters. As a
decorated sailor, you are welcome to sailing tours free of charge subject to availability and you
can count on special offers - the Helmi medal should be yours!