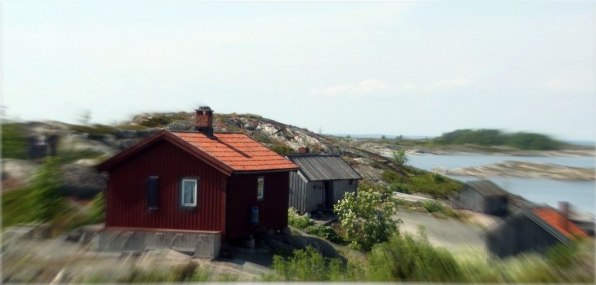 With Helmi to Lygna
On 14 August 2010, it was time for a voyage to Lygna in the outer coastline. Skipper, Atte
Blomberg told us the story about ships of this type in general and Helmi in particular. It was a
lovely morning, but no wind - so it had to be motoring towards Lygna.
Except for Atte, there were a total of four sailors onboard among the crew. Not surprising since this is a very popular sailing tour for the volunteer crews within the Association. With six knots, we went
north of Blidö, passing Kråkan, Norröra and Söderöra, following the chart to our destination beyond Svartlöga in the archipelago. During the trip, Soren Norrby (the guide) told us about the various islands we passed. History and the "stories". This is an ancient cultural landscape, so there is much to tell.
After Svartlöga we reach out to sea bays and passed Fredlarna and Ängskär heading Lygna. The passengers could see for themselves on the chart, if necessary with the assistance of the crew. Once there - now we had to find a safe place for the landing. When you go ashore in the outer
archipelago with Helmi it requires choosing a location in view of the wind. This particular day was
not windy so we went to the North Beach on Lyngna.
Those who wanted could then disembark directly over the bow for a walk up to the island's highest
point, while other passengers got into a small boat for a ride to Rinaldo's landing stage. When we arrived we were hospitably received by Magdalena Rinaldo, who began by telling us about the
different buildings on the island and its history and ownership. Then it was time for lunch. These
sailing tours include an excellent buffet lunch with local island products. A fantastic performance by
Magdalena to arrange this on an island - without electricity.
In the afternoon a light breeze blown up, so the passengers had the chance to participate in the heavy work to set sails. It is important to stretch properly and in the right order! It was a wonderful
feeling when the captain turned off the engineand and the boat took off in the wind. This is different
than a modern sailboat - the great feeling when a heavy ship takes off with wind in its sails.

W

e
who
were
onboard
can be pleased
about
a
threefold
experience;
-
natural experience
of
sailing
through
Roslagen
archipelago
.
-
boating
experience
in
sailing
ships
.
-
the
culinary experience in
Magdalena's
lunch
.
F

inally,
the captain
seemed
to fill
in
yet another
successful
Helmi
-
sailing
in the
ship's log
.